BEFORE summer school
Visit the RISKSUR Training series page:
http://www.fp7-risksur.eu/progress/training-and-webinars watch the following modules:

Module 1: Introduction to Animal Health Surveillance
Module 2: Risk-Based Surveillance
Module 3: Evaluation of Animal Health Surveillance - Introduction

If time allows, review the Best Practices for Surveillance prepared by the RISKSUR project:
http://www.fp7-risksur.eu/progress/best-practice-document
The summer school will be based on a set of tools created to support surveillance design and re-design. The diagram below depicts the process of surveillance design and evaluation, and lists the tools (for practical work – webtool - and theoretical support - WIKIS) available to support this process: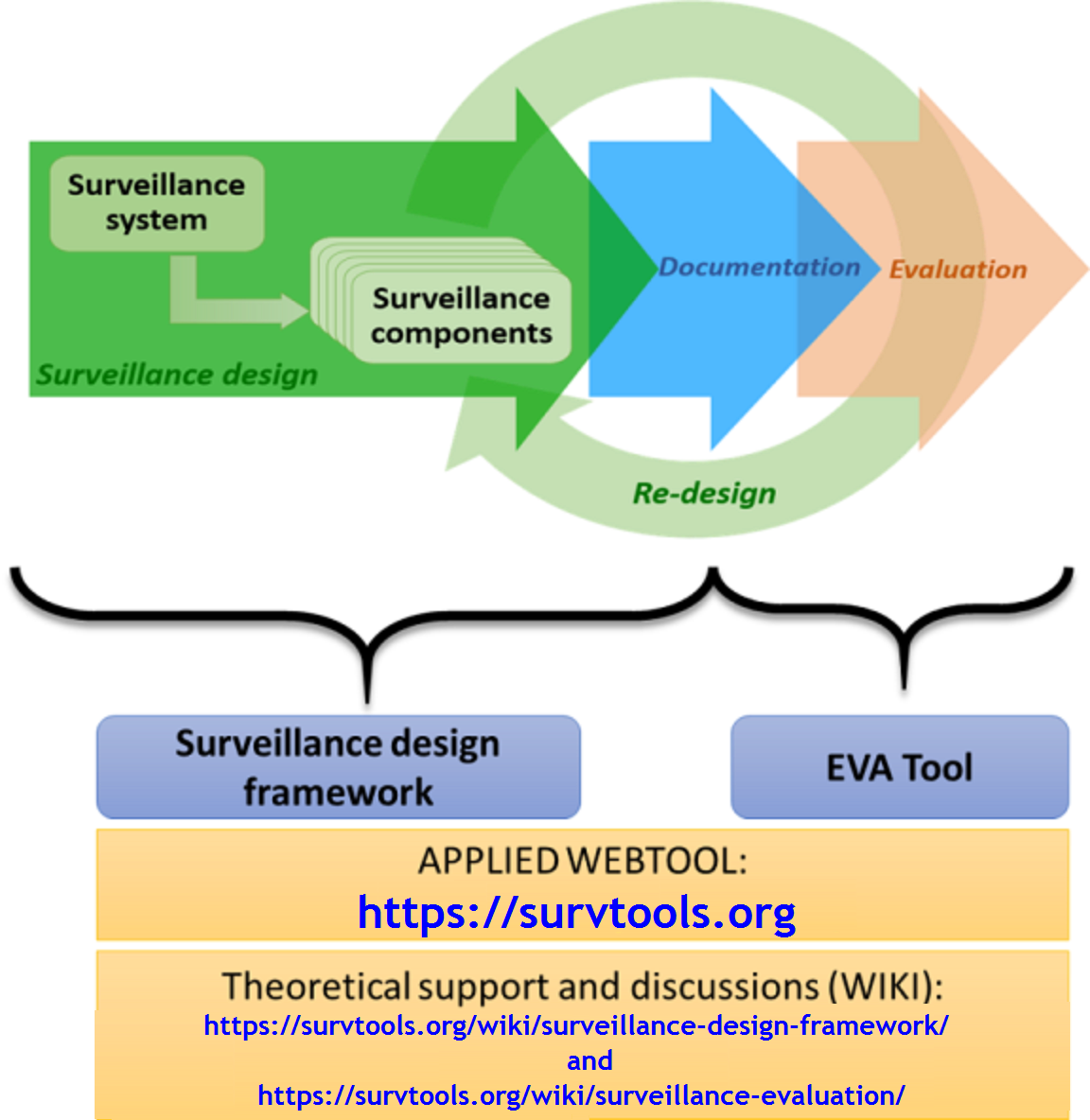 You don't need to worry about having time to get familiar with these tools before the course.
You will learn how to use them during the summer school week, through lectures and guided study hours. In the course schedule, you will find dedicated time to register in the tools, and specific instructions.
DURING summer school
Monday, June 20

Tuesday

Wednesday

Thursday

Friday, June 24

09:00-10:30:

Introduction

 

 

 

 

10:30-12:00:

Webinar "Tools overview"

10:30-12:00:

Webinar "Eva Tool"

09:00-12:00:

Selection of case study

09:00-12:00:

Revision of tool application

10:00-12:30:

Presentation of results

 

 

 

 

 

14:00-16:00:

Webinar "Design framework"

13:00-14:00:

Tutor session 1 (optional)

13:00-14:00:

Tutor session 2 (optional)

13:00-14:00:

Tutor session 3 (optional)

14:00-15:00:

Finalising deliverable, 
completion of feedback form

 

14:00-16:00:

Recommended reading

14:00-17:00:

First application of tool

14:00-17:00:

Preparation of deliverable

 
CONNECTIONS
Access to the tools:

A username and password will be needed. If you can't register, please try with another browser or choose a shorter username.

 
Access to the wikis:

INSTRUCTIONS to access the Wiki-spaces for discussion: wiki instuctions for participants.pdf

 
Access to AbobeConnect:

To determine if your system / computer is ready to participate in a "Adobe Connect Meeting". Please check the following links:

Client system requirements:
https://helpx.adobe.com/adobe-connect/tech-specs.html#ClientsystemrequirementsHostedandlicenseddeployments
Adobe Connect Diagnostic Test:
https://na1cps.adobeconnect.com/common/help/en/support/meeting_test.htm
The "Adobe Connect Add-in" is only needed, if you want to share your screen with others.

Click the following link to view a tutorial on "Adobe Connect" as a participant:
http://www.connectusers.com/tutorials/2010/11/c8_attending_a_meeting/
AFTER summer school
This summer school was held in June 2016, organised by SAFOSO and supported by the tutors: Dr Fernanda Dorea (SVA), Dr Barbara Häsler (RVC), Prof. Ann Lindberg (SVA), Dr Marisa Peyre (CIRAD) and Prof. Katharina Stärk (SAFOSO).
107 individuals registered, from 27 countries. During the final session, 4 case studies have been presented among the 19 sent deliverables.
If you missed the chance to participate, all material (videos, downloads, presentations) will stay available on this website.
ORGANISATION (e.g. documents & videos)